Indiana-Indianapolis
I'm a newbie to Nails on Indy's west side!
Hi Indy Brides!!!
I am getting married at Chateau Thomas winery in Plainfield in a few weeks... I'm looking for any recommendations for a nail salon in that area to bop into the day before
I am a nail novice... and really do not want acrylic nails... but are there any other choices?? My real nails are usually short... but I am giving it my best try to grow them out... but not holding my breath... anyway... just looking for any advice or suggestions.
Thanks!
Find Diet Support on our
Weight Loss Blogs
and Forums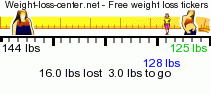 This discussion has been closed.
Choose Another Board
Search Boards