Hello!
My husband and I are in the process of planning a convalidation ceremony, and we are a little confused and could use some advice. After straying from the church for the majority of our early to mid 20's, my husband and I decided to return to the church in May of 2011. We were both raised Catholic, and felt a strong calling to come home. At the time, we had several major snags. First of all, we were in the final stages of planning our wedding on September 10, 2011; invitations were ready to go out, a full secular ceremony was already planned, and travel arrangements were made by guests from across the country. The second snag was that I had already received the sacrament of matrimony in my early 20's, that marriage fell apart due to abuse, and ended in divorce. I met with a priest during this time, received the sacrament of reconciliation, and the priest told me I was welcome to attend mass. He gave me information about how to obtain an annulment and advised us to have our wedding as planned, that it could be blessed later.
Fast forward to now. My annulment was finally approved by the tribunal just before Easter. My husband and I are happily married, and active members of our local parish. We met with a priest last week to begin planning our convalidation. For whatever reason, we thought that a convalidation was going to be a brief ceremony with each other, witnesses, and Father. To our surprise, we learned that we will be having a full ceremony with readings and everything.
This is where the confusion lies. We do not want to have a second wedding. We are married, and everyone is aware. We had our day, it was beautiful and we do not want to overshadow that day or the significance it had. At the same time, we want our marriage to be blessed by the church, we respect the fact that we are receiving a sacrament, and we are now aware that, to the church, this is our wedding. I do not want to appear disrespectful to the church, but I also do not want to appear like I am having a second wedding.
Since we are having a full ceremony, our plans are to invite our closest friends and immediate family, 20-30 people in total. We were thinking about having the ceremony, followed by a reception of sorts in the parish hall where we would serve dinner prepared by a local Italian restaurant and provide a sheet cake for dessert. No DJ, no photographer, no tiered cake, no wedding party. Would it be appropriate to commemorate our wedding during this reception? Or would that be disrespectful to the church? I was thinking about having our wedding album out as well as some of our left over favors. Also, since this is a church ceremony, would it be okay for me to wear my wedding gown a second time? In regards to invitations, should they be presented in the same formality as those of a wedding? Or would it be okay to do a simple invitation with a phone number to RSVP? Any help or insight would be most helpful.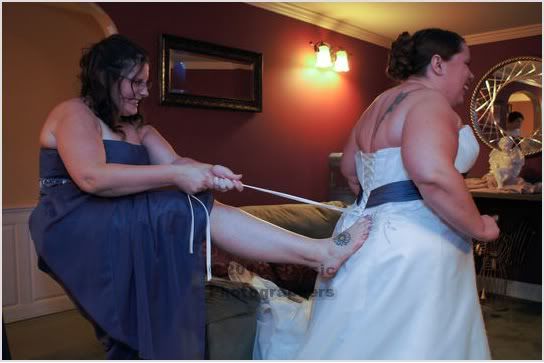 The truth behind a well laced dress