Proposals
Best Cape Cod Surprise Ever!
Let me just start by saying I was 110% surprised!!Mark always told me I was going to get his Mother's engagement ring and he was going to have it reset for me. So I was getting ancy everytime we saw his parents I would look to see if his Mom was still wearing her ring and always leave myself disappointed. One week we decided to join his family on Cape Cod for a 5 day vacation. We had arrived on the Cape on a Wednesday and it was a muggy evening. Mark decided he wanted to go fishing down by the river so as usual we grabbed the fishing rod and started walking down to the water together. It was about 9 at night because it was dark dark out. The whole walk I was talking about how I wanted to learn to cast on my own so I really set myself up for this surprise. Mark told me to walk up the river a little and he would cast the rod first and have my reel it in. So as I started walking he attached one of those large fake engagement ring napkin holders to his rod and threw the line and holder in the water. Me being absolutely oblivious I did not notice what he was doing nor could I even see if I tried. When he caught up to me he had me start reeling in the line.  The line was tugging from the rings weight so I thought I caught a fish. All excited I started reeling in the line faster and faster and with one strong tug out came the fake engagement ring flying out of the water. Me still being oblivious I thought I caught onto someones toy ring!!! Mark got down on his knee as I started laughing and told me he was going to use this ring to propose to me. So I did not believe him because I still thought I caught someone else's garbage. That is when he pulled out my actual ring and said "Would you believe me if I asked you this way?" And proposed to me on one knee at our favorite spot on Cape Cod!Funny thing is I didn't even get to see the ring until 20 minutes later when we finally went back to his house where his whole family was waiting for me to walk through the door!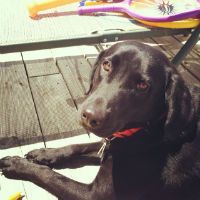 my read shelf:
Started TTC Dec 2012

My Ovulation Chart
This discussion has been closed.
Choose Another Board
Search Boards