Pennsylvania-Philadelphia
**Ms.Briar** funny story
I meant to tell you after reading your comment to me...


On the day of wedding, the guys had their own area where they were getting dressed and had a videographer/photographer assigned to them, while the girls were doing the same thing. Turns out, the guys started opening their tux bags to get dressed and my DH realized he had grabbed all of his other guys' bags except for his. He goes, "who has the fastest car?"...then " which of you can drive the fastest" (since all the guys, except my brother were from out of town)...so they had to race back to the house (about 20 minutes away) get his tux, race back, etc...NO ONE TOLD ME...so i was doing my bridal pics FOR A VERY LONG TIME. everyone kept stalling the couple session because they didn't want me freaking out.

so needless to say...there probably won't be much footage of him getting ready. haha.
Braxton & Lizzie 10.9.10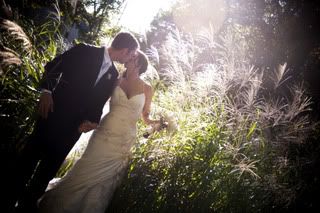 Choose Another Board
Search Boards