OK, SO.
While my wedding isn't super formal (getting married in a park, family style fried chicken for dinner, etc.), I am shooting for a classic elegance (I feel like a tool typing that!) in the decorations. Navy blue, gold, lots of ivory, lots of candle light. My BP is in long dresses, my dress is fairly formal.
BUT.
The invites I like are definitely pretty informal.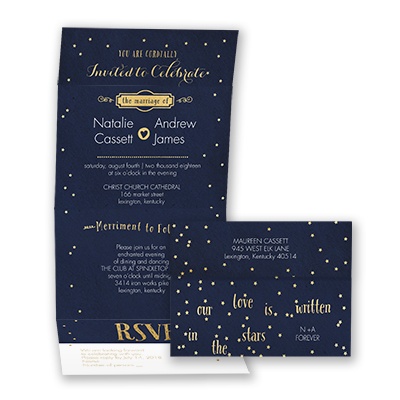 I don't care, I like them, the match our colors, the stars make me happy, and best of all they are cheap as fuck. As a guest, if I received this invite I'd expect a fairly casual affair, I think. If you did, and dressed a little more on the casual side, would you feel awkward if the reception was fancier than the invite might indicate?
IDGAF what people wear, but I also don't want them to be uncomfortable.
Can I order my pretty star invites, or should I keep looking for something a little more formal?