I just recently got engaged (last Friday) and am already overwhelmed with the amount of things that need to be done!!! So luckily one of my best friends (and a loyal/somewhat obsessed Knottie) has been planning her wedding for the past year. Our weddings are going to be during the same time of year, but on the opposite end of the spectrum when it comes to themes/colors. I'm hoping to get tons of advice from her, but I'm also hoping to get tons of advice from some other Charlestonians. Also, my dad was laid off last year, so we are working on a very, very tight budget. Lastly, it is more important for me to have a FABULOUS honeymoon rather than ridiculously overpriced wedding. Here are my main issues and would greatly, greatly appreciate each & every word of advice I can get:

1. I have lived in Charleston my entire life so I have TONS of close friends & family who will without a doubt expect an invitation & who will actually show up to the wedding. Luckily, my fiance is from a teeny tiny town in North Carolina, so he doesn't really have a lot of people he wants to invite besides family. How do I narrow my guest list to the bare minimum without hurting anyone's feelings?

2. It has always been my dream to be married on a plantation; HOWEVER, I don't want it to be Magnolia, Middleton, Boone Hall, or any of the other cliche Charleston wedding venues. Does anyone know of any small, off the map plantations that are cheap, cheap, cheap? Or even some privately owned land that people rent out for special occassions? What about land scattered with old oaks with sleeping quarters for a bunch of people, maybe like an old campground or something???

3. My fiance & I are huge musical buffs and the musical that connects us the most is "Phantom of the Opera". Also, red roses have always been & will always be my #1 favorite flower, so it just seems natural to combine the two loves together; HOWEVER, I absolutely do not in any way, shape, or form want to have a "themed" wedding. No future husband in a Phantom mask, no hardcore organ as my entrance music. What I'm looking for is something Phantom "inspired". How can I pull this off without it being tacky? The colors are red, black, white & silver & I plan to have my bridesmaids carry single long stem red roses with black satin ribbons, tons of twinkle lights, & maybe even a non-theatrical version of some of the songs. Any other ideas?

4. As mentioned before, we want a fantastical honeymoon. Does anyone know of any amazing & affordable travel agents? Also, is the payment of the honeymoon suppossed to be included in the wedding budget or are they completely separate?

5. Does anyone know of anyone who has had a wedding at Smythe Park on Daniel Island? That's where we were engaged, so I wouldn't mind looking into that as a venue.

6. Invitations, reply cards, etc....my fiance & I are both in school for graphic design, so we wouldn't mind creating our own paper supplies. Anyone know how to go about transferring our designs into a funtional product?

7. Has anyone ever had seen or used white pumpkins?

This could continue all night, so I am stopping myself there. Again, I would greatly appreciate any & all advice, so please comment if you wish. Thank you again girls & did I mention how excited I was to finally be able to play on the knot without people thinking I'm weird!!!!

My Food Blog: Slim Pickin's Kitchen
Our Wedding Website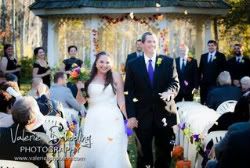 BFP #1: Mother's Day 5/13/12...m/c Memorial Day Weekend 5/26/12 BFP #2: 2/16/13...Please, baby, please be a sticky *fingers crossed*