Did anyone go to the bridal show at the Lewiston Ramada yesterday? FI and I went, it really confirmed everything for me
I'm having our reception at the Ramada, and they had a table all set up like they do at receptions, it was gorgeous! My wedding cake baker was there, as was another baker. The other baker's cake tasted like plastic! So I told my baker that the other baker's cake confirmed my decision to book her! My baker then went on to give us $25 off our wedding cake because we attended the bridal show (every little bit counts, right?). Our photographer and tux rental were also there. The fashion show was done by the bridal shop I ordered my dress from. We also stopped at the Ramada's booth and our reception coordinator introduced us as "one of their brides and grooms." I also had a chance to set up our Sunday brunch. 
Overall, I had a great experience. I met with a local day spa and I am going to visit the spa later this week as a possible pre-wedding pampering location. MOH and I want to have a spa day a couple of days before the wedding. FI met with a travel agent. We are going on a mini-moon right after the wedding, but want to go to Europe next year. 
Our wedding is still 6 months out, but it's starting to feel so real! I can't wait!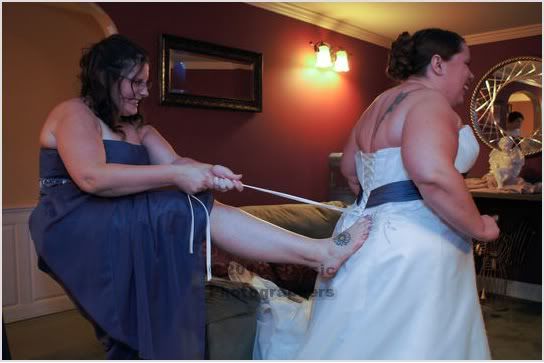 The truth behind a well laced dress