On the 27th, we went to Hakkasan for both dinner and the club experience afterwards. Here's the short of it:
1. Food's great, service is hit-or-miss, atmosphere is ok.
2. Club is made to make money. Get a mezzanine table and bring earplugs.
And on to the details!
We arrived and were seated right away. Our waiter got us water and then ignored us for 20 minutes. When he finally did get around to serving us, he was knowledgable and helpful. Their pepper ribeye with merlot sauce was the standout dish of our meal. I'd go back just for that. We also had thai chicken in a claypot, which was tasty with a bit of a kick. Appetizers are in the $20 range, entrees $30-50, with some specialties over $100. They had a wonderful selection of tea, which was great for us.
On Thursdays and Sundays, you get free admission and can skip the line if you eat in the restaurant and go to the club. Because we had our table and were meeting friends, we didn't take advantage of that, and in hindsight, we should have. The scene outside was a little crazy, but because it was early, it wasn't too bad. We waited for about half an hour for our host to whisk us into the club. It felt a little like a diamond - a main dance floor at the point, and rows of tables radiating around the main floor. We were further out, on a long, curved couch with three tables. We had the end of the couch, which meant we could feel safe with our jackets and purses tucked at the end. If I could do it again, I'd try to get a table closer to the main floor, or one up on the mezzanine. I was hoping that I'd be able to get a good view from above, but the edge of the mezzanine is packed with tables. There are multiple bars and restrooms, which makes getting your drinks easy - I didn't see lines at any of the bars or restrooms.
The warm-up DJ was good, average for a club. When the headliner came on, it went nuts and the volume increased. I haven't experienced that dramatic sound shift elsewhere, so I'm not sure if it's the DJ or the club. But bring the earplugs, and you'll still be able to hear fine.
@Valeriecruz
Your question was - will the floor be packed? My answer for you is yes. Absolutely. Here are a few photos from a Thursday night, pre-headliner.
Main floor from an entrance ramp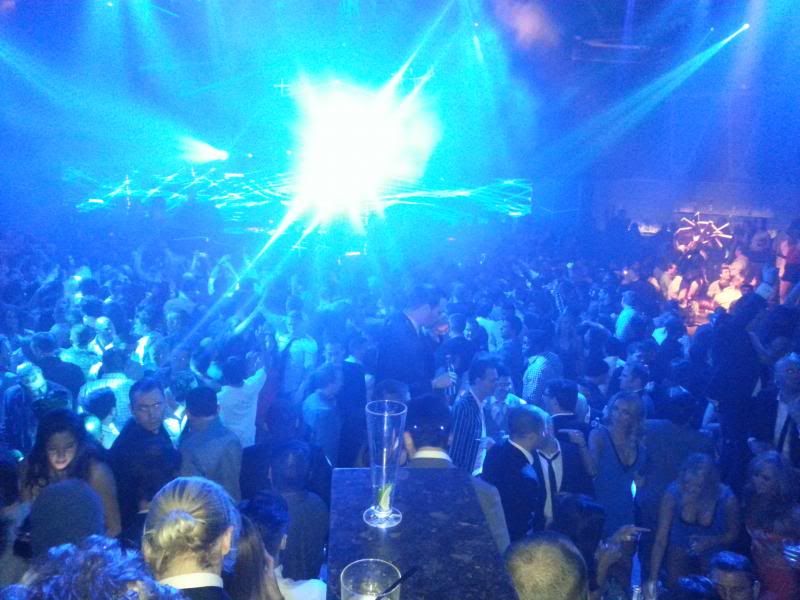 Main floor from the front, behind the tables
Gogo dancers have crazy headdresses with the Hakkasan logo!