Hi Knotties-I recently purged a ton of stuff at home and came across some items I'd ordered for my Dec. 2013 wedding and never used. Hoping to find someone who can use these items rather than throw them away!
4x Snow drape
Gift card box
Invitations-1 set includes insertion cards, 1 set (unopened) includes 50 invitations and response cards +envelopes, 1 set (unopened) includes 25 invitations, response cards + envelopes
49 snowflake envelope seals
Favors-notepads, hot chocolate favor box, cake bags
90 favor tags
4 sheets of snowflake decals
1 pack of 6x snowflake paper lanterns
1 box of 1 dozen round glass votive holders
Wedding colors were plum & gray. The favors, envelope seals, decals, paper lanterns all include gray/silver color. The invitations are a mixture: 1 box has pearl/iridescent, 1 has purple, 1 has silver. Gift card box is white & can be decorated. Favor tags are white, and votive holders are clear.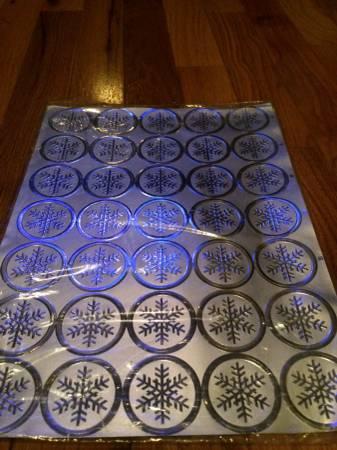 $120 price is all inclusive of all listed above & estimated ground shipping
Payment will be requested via PayPal.