I just wanted to share our great dessert idea! I have some friends who opened a self-serve frozen yogurt place in town a few years ago and last year they started doing mobile events and had been approached about doing a wedding, so they're starting to do weddings now. So, we're of course hiring them because we love them! Everyone gets a 6oz serving and can then pile on as much toppings (we get 5) as they want! We can even choose up to 8 flavors and if we don't serve it all, no big deal, they'll use it in the store!
We're not cake fans (I even own a bakery), so we didn't really want cake. I'm making a small cutting cake so we can have that tradition, but then we're breaking all the rules.
I just wanted to share because we are so excited for this!
November Board Siggy - The Venue!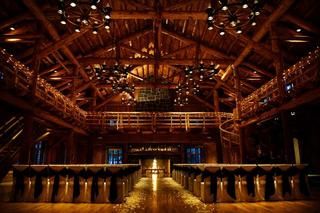 The Great Hall at Sunriver Resort, Sunriver, Oregon
243 Invited
172 Can't wait
71 Are missing out