we're going for sort of a whimsical victorian / steampunk kinda wedding.
almost everything is diy, with help from our wonderful friends.
we finalized the table #'s and i got some mocked up last night. stained the clothespins last weekend, now i just need to print and mount all the numbers. they are all different. i love 'em!
i'm also starting to wade thru the thrift treasures i've gathered and put together the centerpieces. they will all be different, with sort of little groupings of "stuff" around a theme, with books and maybe some wildflowers thrown in somewhere. here's a "science" one:
you can only see one of the candles there, but i'm making about 100 of those, wrapping tons of different papers and vintage maps around 5" tall candle holders. there will be 5 per table, i think. they're gonna looks great, with all those different patterns all over. the taller ones will go on the bar, cake table, etc, i think.
i'm having a good time. LOL
married :: april 22, 2010 :: sodo park, seattle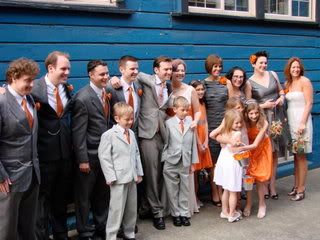 http://www.etsy.com/shop/craftyclementines