Indiana
DJ for Terre Haute
I'm looking for a DJ in Terre Haute (even one willing to travel there) that isn't going to break the bank. I want someone who can keep the party going, provide nice lighting, and can MC the events. Dancing is one of the things I'm looking forward to at the reception and would absolutely hate to have a sucky DJ but I'm also on a tight budget. Any recommendations would be very very much appreciated!!

TIA!!

September 2012 Siggy Challenge: Ceremony Venue
Outside in the Sunken Garden in front of the LeFer Hall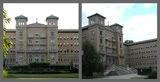 This discussion has been closed.
Choose Another Board
Search Boards