Hi Ladies!
We got married in April, and I wanted to share some of the vendors we used.  Everything turned out so perfectly, but I'll try and keep it short!
Venue: Brown Hotel - A
They do weddings, and they do them well.  The food was great, Debbie the coordinator was on top of everything.  Nothing was anything short of perfect with them, and it was great staying where we got married.  Everything was easy, and simply gorgeous.
Videographer: Two Rings - A
If there is anything to save up for, save up and get a videographer!  The videos are awesome-it's like being there all over again.  They were SO nice, so helpful, but never in the way.  It took awhile to get the video, but it was worth it.  The highlight video is here, so you can get an idea of their work: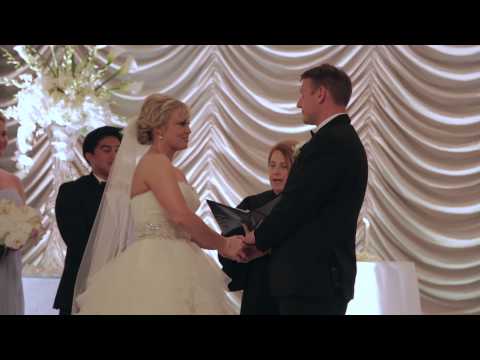 Cake: Mert's Cakes - B+
We were a little thrown off, because the sample pieces we got did not taste as amazing as everyone said they would be.  We didn't feel great about any of the flavors or fillings, but choose one anyway.  However, when it came to the actual cakes (groom and wedding) they were fabulous.  Tasted and looked great, and exactly what we wanted!
Photographer: Studio E - C
The pictures are great, but this is the one thing we'd change if we could re-do anything.  It felt like they got into a fight on the way to our wedding and wanted to kill each other, and we were just in the crosshairs.  Lots of our wedding party mentioned how uncomfortable it was, and it just wasn't a good fit.  There are about 50 pictures we love, and that's fine.  That's plenty for us.  But, there are a lot of the same things and same poses, and it just never quite clicked.  For the money we paid, I wish we would have used someone else.
Make Up: Ana Crane - A
LOVE her.  The make up was amazing, and she ended up doing my hair last minute and it turned out great.  She is so much fun, and just really, really good at what she does.  Her website is here: 
http://www.appliedcosmeticservices.com/
and I would recommend her to anyone, for anything.  
Dress: Bridal Suite - A
God bless these people, they are awesome!  I went in there so many times for so many things, and they are just the best.  The owner Laurie is awesome, and helped so much with everything.  We found the perfect dress for me on our first trip, and I'm so glad we went there.  They are smaller than somewhere like David's Bridal, but the selection is great.  Instead of having a ton of average dresses, she has amazing, beautiful ones in each style.  All dresses in the shop are under $2,000, but many don't look like it at all.
Not much to complain about-we had a great wedding!  Good luck ladies!